A world full of Disney magic!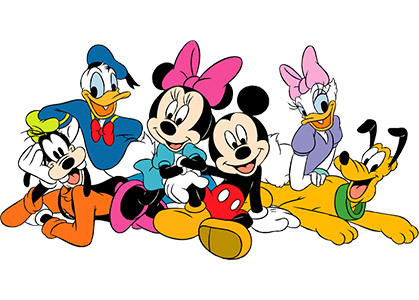 Disney was founded in 1923 by Walt Disney and his Brother Roy as the Disney Brothers Cartoon Studio and established itself as a leader in the American animation industry and even today it remains head of the film industry. Uncountable classical movies were created in his dream studio, such as, Mickey Mouse, Minnie Mouse, Pinocchio, Bambi, Dumbo, The Lion King, Peter Pan, 101 Dalmatians, Winnie the Pooh and Aladdin among many others. We'll go into detail later about the magnificent Disney princess dresses under the Princess Costume sector.
Walt Disney doesn't just specialise in the production of animated films, he also creates films with real actors. Some of the most famous ones are: Honey I shrunk the kids, Mary Poppins; The Big friendly Giant and Beauty and the Beast, to name a few.
If you're thinking of organising a Disney themed Fancy Dress party , well you've come to the right place! Explore fantastic ideas on how to dress like a true disney princess with these wonderful Disney Costumes. We can guarantee you'll find everything you need to organise an unforgettable Disney party.
Disney costumes for everyone!
If you're looking for Disney costumes for children, adults or for babies, Funidelia is the place to shop. You'll find all of the Disney costumes in our wide collection online for a great fairytale party.
At Funidelia we've got Cheap Disney costumes, more expensive ones and officially licensed products, to cater for all target audiences and different needs.
We also offer a great selection of the best and most symbolic Disney Costumes. Yes, of course, this includes the classic Disney Princess costumes. Disney wouldn't be Disney without them.
Mickey Mouse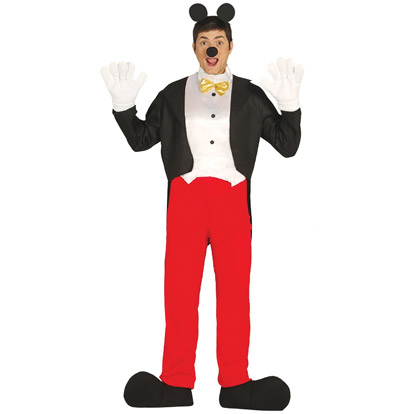 "I only hope that we don't lose sight of one thing - that it was all started by a mouse."
A famous quote by Walt Disney himself, a philosophy that has remained with the company. Mickey Mouse is a funny, cheerful and the most recognised cartoon character. He's the official mascot of the Walt Disney company.
We could even say that Mickey Mouse is one of the characters that has changed the world- thanks to him, his creator won an Oscar. In our catalogue you'll find various options of Minnie and Mickey Costumes, even though, it's usually just a dress/ skirt with ears on a headband.
What would a Disney party be without Mickey Mouse?? Mickey Mouse is a MUST when it comes to cartoon or Disney inspired events.
His infamous look consists of red shorts, large yellow shoes and white gloves. And of course his distinctive eyes and ears.
The Mickey Mouse outfit is a must have for any costume party. Check out our Mickey Mouse Costume section and find the perfect costume for a Disney costume party or a kids' birthday party.
Minnie Mouse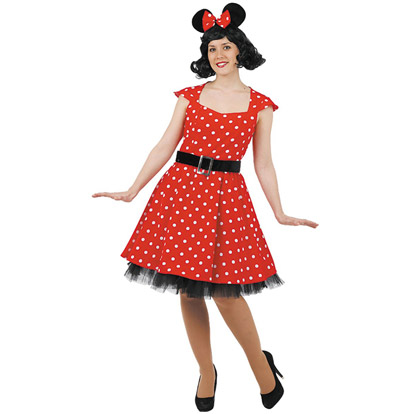 Minnie Mouse is a fiction character that belongs to the Mickey Mouse story. Minnie is Mickey's girlfriend and she usually wears a red dress with white polka dots, although, being the diva she is, she tends to change her outfit from time to time. Depending on the occasion, minnie would wear one outfit or another and on Funidelia you'll find all of them. Just like her partner she also has the distinctive ears and nose.
A Minnie Mouse costume would be a perfect idea for any girl whether it's a woman or child who's looking for something for a Disney costume party. Dress up as Minnie and bring your Mickey along with you, wearing your favourite minnie and mickey costume, a simple but excellent idea.
In our catalogue you'll find various options of Minnie and Mickey Costumes, even though the, usually it's just a dress/ skirt with ears on a headband. Of course, you always have the option to complement your costume with some accessories.
You'll be more than ready for your Disney party with your unique Minnie costume. Moreover, this costume would also be a great idea for a Disney birthday party. Why not have matching costumes for you and your daughter, you wear the red and your daughter in pink, sounds great, don't you think? Your Disney party will rock with all these original costumes and it will create amazing memories. let's get the party started!
Alice in Wonderland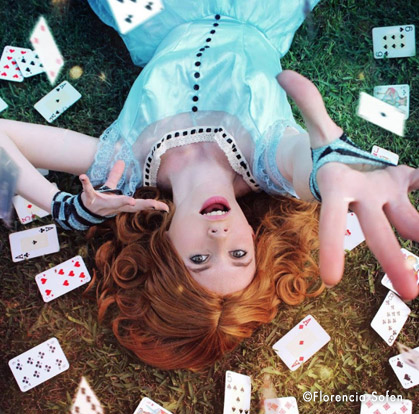 An Alice in Wonderland costume is another great idea for your Disney outfit. Thanks to our costumes , you'll be able to feel like you're the real Mia Wasikowska (who play's Alice in the movie), Johnny Depp (the mad hatter) or Helena Bonham Carler( Queen of hearts).
Who is your favourite character? Funidelia has got all of the Disney costumes you can think of. If you're going to a Fancy dress themed party then Alice in Wonderland would be a great option.
In our wide collection online you'll find more than just the "Alice costume", but also the Mad Hatter, the Queen of hearts, the White Rabbit. Dress up as your favourite character. Hundreds of Alice in Wonderland costumes are waiting for you on the other side of the mirror….
Miraculous: Tales of Ladybug & Cat Noir
Ladybug and Cat Noir are undoubtedly two of the most popular children's superheroes today . The two main characters of the programme, Miraculous: Tales of Ladybug & Cat Noir
Set in modern-day Paris, the series focuses on teenagers Marinette Dupain-Cheng and Adrien Agreste.When evil arises, Marinette transforms into her secret superhero persona Ladybug, while Adrien transforms into his superhero persona Cat Noir, her classmate who she loves.
Ladybug and Cat Noir costumes are a must have especially at a birthday party, where they can all dress up together
You can complete the Ladybug costume with her magical yo-yo and earrings, so your little girl can transform into her favourite superheroine and not to mention the Ladybug wig, the icing on the cake.
And to complete the Cat Noir costume, you can buy a rattlesnake and a cat's ears with a mask so that your little one goes unnoticed and nobody can recognize that he is the same Cat Noir.
Disney Princess Costumes: the most beautiful in the world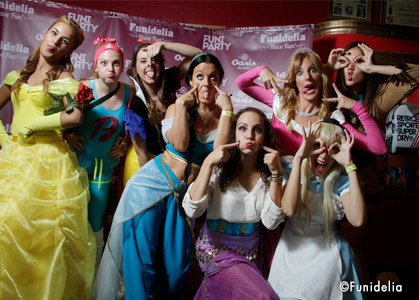 Have you got a Disney party around corner and you're stuck for what to wear?? Remember, Disney costumes aren't just any costumes, with the costumes we offer you can live these fantasy fairytales and you and your costume can be the hit of the party.
Perfect skin, long silky hair, big eyes and pretty, elegant figure .. Who wouldn't want to feel like a disney princess for once, waiting patiently for her prince to sweep her off her feet? At Funidelia you'll find the perfect Disney Princess dress to live the perfect fairytale at the next Disney party.
Frozen, Cinderella, Rapunzel , Snow White or the Little Mermaid costumes, who's your favourite? At Funidelia you can get the costumes that will help your dreams come true! From the most popular- Elsa and Anna from Frozen or if you're looking for a costume for a young kid - Sofia the First or Elena of Avalor are always a popular choice for little girls.
Discover Officially licensed Disney costumes on our online catalogue. We've got Disney costumes for all ages- adults and children. Don't hesitate to check out our great selection of Princess disney costumes that will leave everyone in awe.
Mirror mirror tell me, who is the most beautiful in the world?: Snow White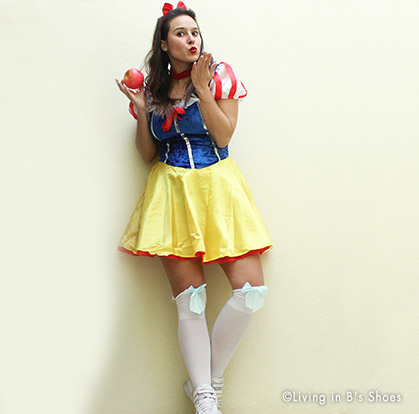 Snow White is one of the Most prestige and famous Disney princesses. The story is based on the Grimm brothers Fairy tale. It's a tale about a beautiful girl, Snow White, who takes refuge in the forest in the house of seven dwarfs to hide from her stepmother, the wicked Queen. The Queen is jealous because she wants to be known as "the fairest in the land," and Snow White's beauty surpasses her own.
The dwarfs grow to love their unexpected visitor, who cleans their house and cooks their meals. But one day while the dwarfs are at their diamond mine, the Queen arrives at the cottage disguised as an old peddler woman and persuades Snow White to bite into a poisoned apple. The dwarfs, warned by the forest animals, rush home to chase the witch away, but they are too late to save Snow White from the poisoned apple. They place her in a glass coffin in the woods and mourn for her. The Prince, who has fallen in love with Snow White, happens to walk by and awakens her from the wicked Queen's deathlike spell with "love's first kiss".
If you're a big fan of the Grimm brothers tales and are thinking of organising a Snow White party, why not give it the finishing touch with our wonderful Snow White costumes.
There are various options when it comes to choosing a Snow White costume, however her typical look consists of white socks, (long or short, like in the photo) a blue corset with puffy striped short sleeves and a yellow skirt. To finish off the look, Snow White also wears a headband and of course the infamous red apple. We'll take care of this part of the party, now all you have to do is the organisation.

Maleficent,
Wicked witch or betrayed sorceress?
If you're planning on having a Sleeping Beauty themed party, don't forget all the main characters in this story, as the story of Sleeping Beauty not only implies Princess Aurora but also the evil forest fairy, known as Maleficent who also plays an important role.
This fairy, dressed all in black, is one of the most important characters in history. So much so, she was one of Disney's first ever villains to have her own movie.
At Funidelia, you'll find a replica of both original dresses from both movies, Maleficent and Sleeping Beauty.
Both dresses come with the infamous headdress, the black curved horns. Make sure to get the costume so you can become the darkest and most evil Disney character ever.
You'll find a great selecion of Maleficent costumes in our catalog online. Also, discover some excellent makeup ideas with our Makeup tutorial by Sara G
Are you afraid of being afraid? Check out our super selection of Malecficent costumes from both the original movie and from the Disney Classic Sleeping Beauty. Let's get the party started!
Elsa and Anna: Princesses of Arendelle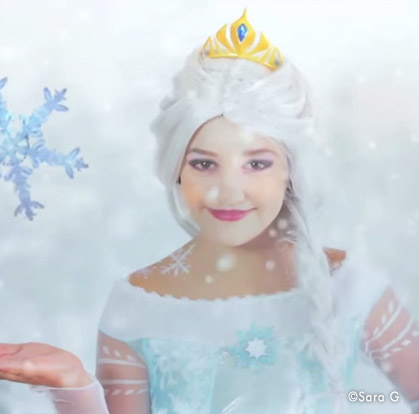 For the first time in forever Funidelia will leave you frozen! Here you'll find the best offers on the wonderful Frozen costumes. A Frozen costume would be the perfect gift for a Disney fan.
If you're thinking of organising a Frozen themed party, why not check out our great collection online, you'll find everything you need. From Frozen costumes (Elsa and Anna princesses or Olaf) to decorations to hair braids. Let it gooooo! Let it gooooo!
Glamorous Elsa is every little girl's favourite Disney Princess and Funidelia is well aware of that. Who wouldn't want to have her beauty, elegance and magic touch? Not to mention her beautiful long locks and the infamous blonde braid. All we need to do is add the dress and we have the complete outfit.
We have dresses for all ages, so even your little tot can be a Disney princess. check out our great collection of Frozen costumes online where you'll find Elsa costumes and many more related accessories for the best Frozen Party ever.
Organize a Disney ice cream party and dazzle with your Elsa costume and the rest of Frozen characters. Here are some ideas!
Cinderella, don't let you be given the brush off!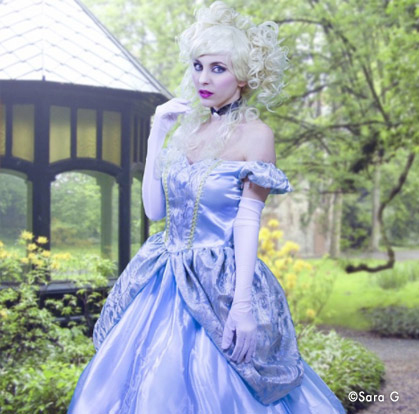 Cinderella is the name of both the tale and the main character. She's a girl who suffers from the tyranny of her cruel stepmother and ugly stepsisters. They use her as their servant in her own home and give her orders day in day out. One special day, with the help of her fairy godmother, Cinderella's old dress became a golden dress sparkling with jewels while on her feet was the prettiest pair of glass slippers ever seen, so Cinderella was able to go to the ball at the Royal Palace. The fairy godmother told her she must leave the ball before the clock strikes twelve because at midnight the magic ends.
With that Cinderella climbed into the pumpkin coach. On her adventure she meets the Prince. While with him, Cinderella was enjoying the ball so much that she forgot her fairy godmothers warning until it was almost midnight and the clock began to strike. Tic, toc. In a hurry out of the ballroom she ran down the palace steps one of her glass slippers fell off. The Prince took the glass slipper to use it to find that girl he fell in love with. After days of searching for her he found her. Cinderella tried the slipper on and bingo! it fit her. They both fell in love and lived happily ever after!
If you're thinking of dressing up as Cinderella, you'll find everything you need : Cinderella costumes, her glass slippers and many more. You could organise an amazing Disney bithday party with all these costumes and accessories. We have Disney costumes available for both Adults and children. Take a look at this video for some ideas for a Cinderella cake.