Disney Princesses
Would you like to be the centre of attention even if it was only for a few hours? Have you ever dreamt of a charming prince arriving on his white horse to take you away and live a fairy tale life together?? If you've been dreaming of being a stunning princess since you were a child, Funidelia is here to help you achieve those dreams.
it's never too late to be the princess you've always wanted to be, in our catalogue at Funidelia you'll find a wide collection of Disney princess costumes for both kids and adults.
You'll also be able to find loads of accessories to complement the fabulous dress.
We believe that the sky's the limit when it comes to dressing up. Anyone, no matter the age or the sex can be a Disney princess
At Funidelia, we also believe that these costumes would be a great idea as a Christmas or birthday gift. What little girl wouldn't like to find a Princess dress under the tree on Christmas day. Surprise your daughter with a Disney princess costume this year from Funidelia.
Disney Princess costumes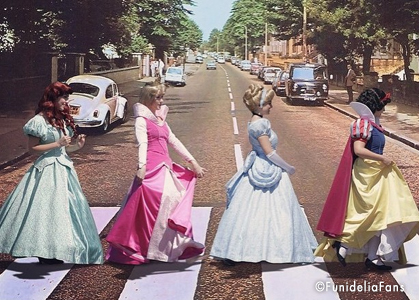 Welcome to the world of Disney Princesses at Funidelia, here you'll find the widest range of the most iconic Disney dresses from the famous Disney movies.
Discover the beautiful Cinderella dress, the iconic Snow White dress and many others and of course, the most recent princesses - the famous Arendelle sisters Anna and Elsa. You'll also find costumes of Moana and Elena of Avalor , the latest young adventurers of the Disney cast. Sounds good, doesn't it?
If your knowledge of Disney princesses is a bit rusty, don't worry we can help you with that. Let's take a look through some of the most famous princesses. Not everyone's familiar with the names Belle and Aurora or maybe you're a dad looking for a dress for your daughter and you're feeling a bit lost... After all, this is more of a girls thing.
That's why we are here with our short guide to Disney princesses for those not so familiar with the topic. We want you to choose the best Disney Princess Costume for your daughter. Let's get started!!
Elsa Costume (The magic kingdom of Arendelle)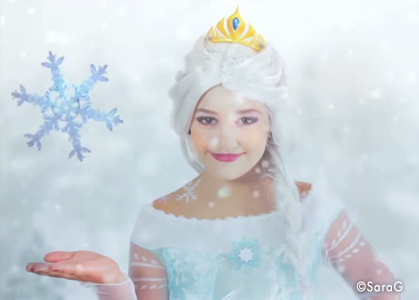 Before starting, let's just get one thing straight- all the Disney princesses are wonderful. But, each one of them has something unique that differentiates them from one another. Let's talk about Elsa from Frozen. Apart from her natural beauty, what does she have that the other princesses don't possess? She has the magical power to conjure and manipulate snow and ice. A gift that has led her to being the ultimate snow queen of Arendelle. Without batting an eyelid she can turn anything into ice …. Brrr cooold!
Her long blonde braid and magnificent big bright blue eyes are what makes her one of the most beautiful and precious Disney princesses, not to mention her iconic satiny blue dress with printed snowflakes.
It's no wonder that Elsa's dress is the most demanded costume among little girls. Her dress is completely different from all of the other princesses as it's designed specifically to protect her from the cold.
Let's not forget to mention the other main characters from the movie- Anna, Elsa's younger sister, the brave, innocent and clumsy one. She doesn't look anything like her sister as she has red hair and freckles. They both live in Arendelle together where they spend loads of time together.
At Funidelia, you'll find a wide range of different Elsa and Anna Costumes. Any little girl would love these dresses! If your daughters are glued to the TV when Frozen comes on and they love singing the number 1 hit " let it goooo", then you've just found the perfect Disney costume.
A Classic that never goes out of Fashion: Snow White Costumes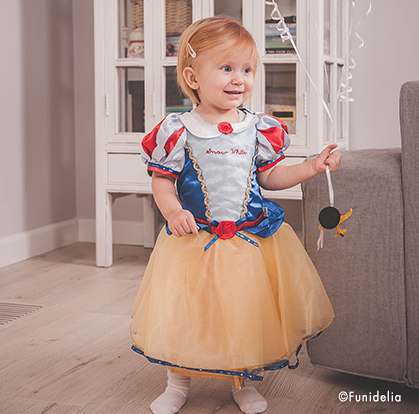 Oh!! Snow White…. The charismatic disney princess that would win anyone over. Her predominant features, short brown hair and original blue and yellow dress are some of the characteristics that distinguish her from the rest.
As we all know very well, snow white is the most beautiful lady in the kingdom, although her evil stepmother finds it hard to believe. But not just that..Or, unless... you know of another princess that lives in a cabin in the middle of the woods with seven dwarfs??
If you've always dreamed of being the wonderful Snow White, you can bring your dreams to life with the great selection of Snow White costumes and accessories we have at Funidelia. We've got costumes for everyone, women, children, dogs and men of course.
In addition, this Disney Princess costume can be found in different versions and styles, from short and sexy with a corset to a looser version with or without accessories.
We've also got costumes for those into the more original and classic style, as well as kids dresses.
You're guaranteed to come first in any competition with these marvellous, elegant dresses. If standing out in the crowd is what you love doing, then no doubt you'll achieve that with these Disney princess costumes. Or if Snow White isn't your cup of tea, we've got more…
Cinderella Costumes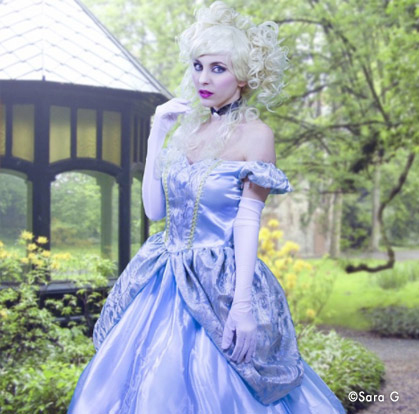 Can you think of anything better than dressing up as Cinderella?? Although originally, Cinderella was created by the French author Charles Perrault, there has since been many modern adaptations and has turned into one of the most popular Disney movies/ tales of all time.
The most famous Cinderella movie is the animated version that was released in 1950.
This was the very first appearance of Cinderella and her fellow cast members Lady Tremaine the fairy godmother and the ugly Stepsisters Drizella and Anastasia. The movie was nominated for the oscars and received three Academy award nominations, including, Best Music.
Many years later, the fairytale was brought to life with a real life movie that was premiered in 2015. The film stars Lily James as Cinderella, as well as other well-known actresses like Cate Blanchett, who played the evil stepmother and Helena Bonham Carter who played the fairy godmother, and the Prince was played by the famous Richard Madden.
This film surely did not go unnoticed, not only for it's outstanding acting but also for it's breathtaking award-winning dress worn by the fabulous Lily James.
And of course, you can find a replica to this Cinderella dress online at Funidelia for both women and children. So your childhood dreams can finally come true.
Maleficent costume and Sleeping Beauty Dresses
Sleeping Beauty, also known as Aurora is one of the most famous disney princesses ever. Princess Aurora is the main character of the fairytale which is based on the tales of Mother Goose by the french author Charles Perrault in 1697. Then in 1812, the story was revived by the Grimm Brothers when they published their version of Sleeping Beauty. Sleeping Beauty is about the adventures of Aurora, the Disney princess. After a long 100 years in a deep sleep she is rescued by a kiss from a handsome prince. Aurora is known for her natural beauty, pale complexion, long blonde hair, slender figure and big beautiful eyes… Pure beauty. She likes to wear long dresses, but the most symbolic and spectacular dress that sleeping beauty wears in the stunning pink one. Another recognisable dress she wears is a long shiny blue one, as mentioned previously, this is the one she flaunts at the waltz where she dances with her prince.
If you're attending a Disney themed costume party and don't know which Disney princess to choose, don't worry, you'll find a wide range of Aurora costumes for both women and girls in our collection online. Whether you choose the deluxe or standard version, you can be an authentic Disney princess for a night or as long as you want. However, if you're on the Dark side, sleeping beauty is not for you, you won't be able to resist the Maleficent costumes we have to offer. The "Mistress of all evil" costumes were inspired by the Angelina Jolie's representation of Maleficent in the movie in 2014. She's tall , thin and pale as a ghost. The clothes she wears reflect her dark and sinister personality.
The story of Maleficent in sleeping Beauty
Once upon a time there was a grand celebration and all the fairies in the kingdom were invited. But the king forgot to invite an old fairy. She came to the celebrations but was very angry. Soon it was time to gift the baby with special wishes. The good fairies wished her well and said, "May she grow to be the most beautiful girl in the world! She will sing sweetly and dance so well! She will live happily!" All the fairies blessed the baby and gave her beautiful gifts.
When it was the old fairy's turn, she said, "When the baby is sixteen she will touch a spindle, and die!" The king and queen were shocked and begged the fairy to forgive them and take her words back but the fairy refused to do so. When the other fairies saw the king and queen crying, they said, "We cannot undo what the old fairy has spoken. But we certainly can make it different. Your child shall not die when she touches the spindle. But she will fall into a deep sleep for a hundred years. Then, a prince will come along and wake her up." Hearing this, the king and the queen were relieved. The king forbade everyone from spinning so that the princess would never touch a spindle.
This is considered Disney's most romantic and beautiful love stories of all time, but if you're more of a fan of the dark side, the Maleficent costume awaits you in this section…
With her dark, elegant design, dramatic and flamboyant animation and unlimited arsenal of magic powers at her command, Maleficent is one of the most popular and recognizable Disney Villains. Maleficent is known for wearing a long black dress that covers her neck. She always holds a scepter in her hand that serves as a wand to cast her spells. She's famously recognised for the headdress on her head- which truly portrays an evil image. She moves slowly and very seldomly smiles. She has long thin fingers and her nails are always painted bright red.
It's obvious that Maleficent does not belong in the Disney Princess world, but we couldn't not include her in our selection of most emblematic sleeping Beauty characters.
Maleficent Costume is available for both adults and children. Who said that girls only ever wanted to dress up as princesses and not dark and evil characters?
Bella Costume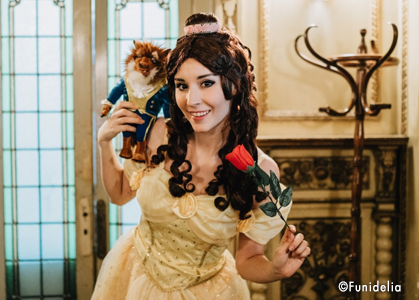 In the world of Disney princesses you'll find a variety of dresses and costumes to suit different characters and personalities. At Funidelia, you'll find the most iconic dresses from all the Disney movie.
Among many we have another very popular princess, Belle from Beauty and the Beast, her most elaborate, recognised, iconic, and renowned dress is a golden ball gown that she wore in the latest Beauty and the Beast movie. You'll feel like a true beauty queen with this breathtaking gown.
We've got a wide range of Belle dresses, from the classic version from 1991 to the most recent in 2017.
We hope that this small guide has been useful and has helped you make your mind up, as we know choosing one can be difficult.
Don't waste anymore time and get your favourite Disney Princess costume!